Closure
The primary aim of closure stage is to use sampling data to ensure that the site no longer needs monitoring, or that it may be transitioned to other land uses. In many cases, using geospatial analysis can be limited by the lack of contaminant detections at the site at closure, particularly where the cleanup goals are close to the analytical detection limits.
Closure is the final stage of the life cycle in which the determination is made about whether to permanently cease monitoring. Geospatial methods can support closure through:
demonstrating compliance with criteria
demonstrating acceptable trends toward achieving compliance criteria
supporting methods for determining closure objectives by

modeling using collected data
conducting uncertainty analyses to account for uncertainty in goals and objectives
preparing visual representations of site conditions

retaining

geospatial data

and management procedures for the final administrative record (including the model used, model assumptions, data used and output files)
reducing costs by demonstrating successful mass removal and acceptable trends (as discussed in Monitoring)
Figure 7 provides an overview of the role of geospatial methods in this stage of the project life cycle. Each general topic, specific question, and method is linked to a more detailed discussion.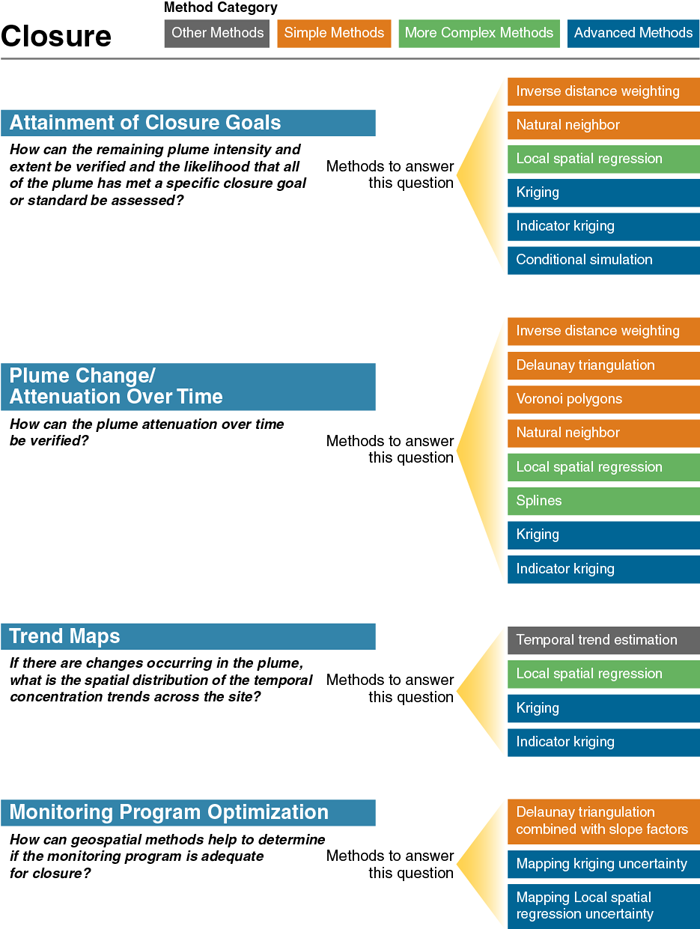 Figure 7. Closure overview.
Closure: Attainment of Closure Goals
How can the remaining plume intensity and extent be verified and the likelihood that all of the plume has met a specific closure goal or standard be assessed?
Closure: Plume Change/Attenuation Over Time
How can the plume attenuation over time be verified?
Closure: Trend Maps
If there are changes occurring in the plume, what is the spatial distribution of the temporal concentration trends across the site?
Closure: Monitoring Program Optimization
How can geospatial methods help to determine if the monitoring program is adequate for closure?